reThinkIt! used every day, makes a kid's life extraordinary

reThinkIt! is a whole new outlook on a whole new level for kids because their mental healthcare is now in the palm of their hands
The first kid-focused mental healthcare platform, reThinkIt! is designed exclusively for kids to improve their mental health and social emotional well-being using their mobile devices.
Kids are new to learning how to navigate their emotions. reThinkIt! provides the structure for them to better understand and process their emotions, understand their own behaviors, and learn how to navigate those of others.
reThinkIt! is built for the unexpected and the curious.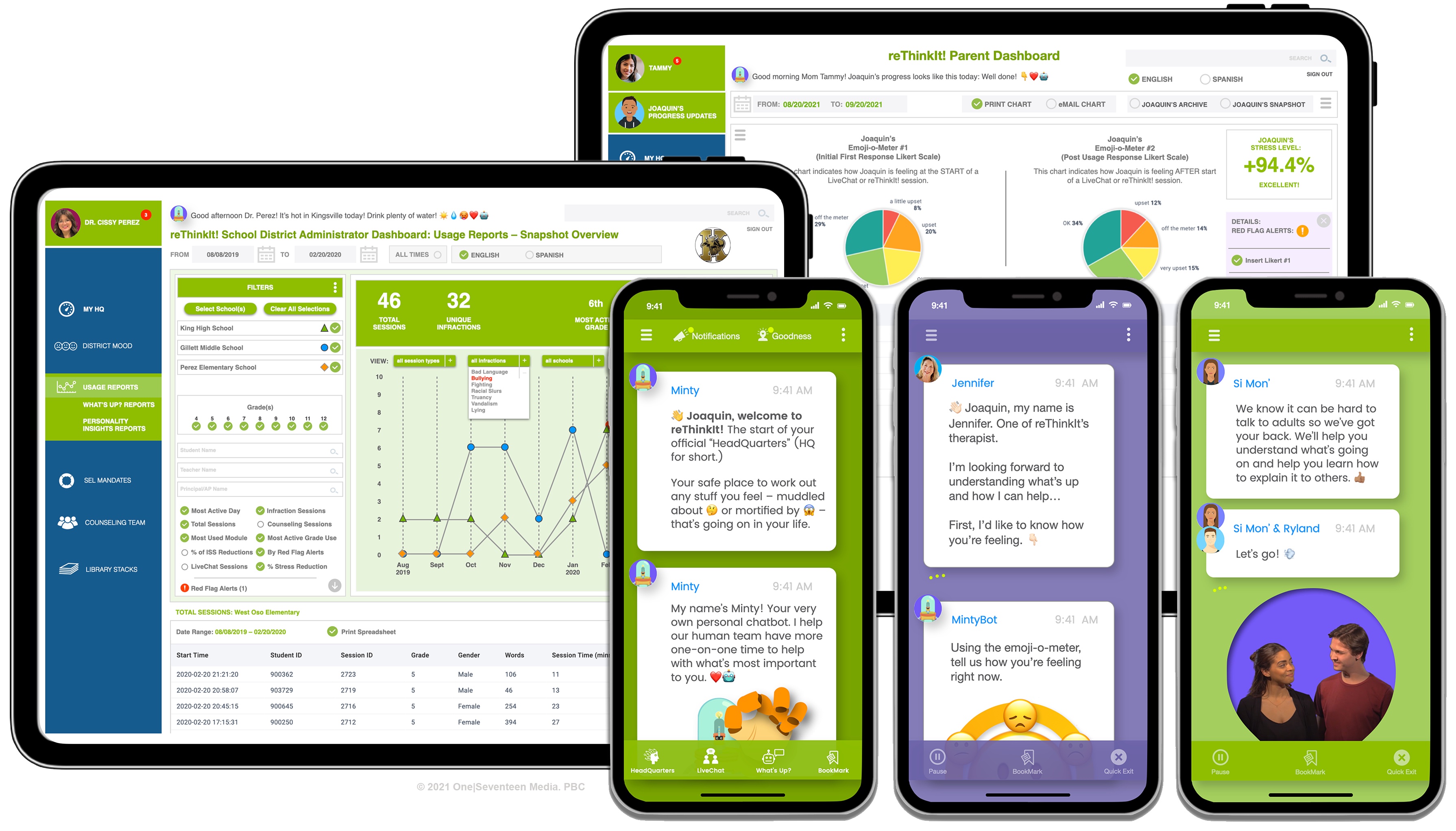 Using AI that lets the data do the speaking and kids do the talking, we take care of the complicated before it gets complicated
There is no doubt that machine learning (ML) and artificial intelligence (AI) are revolutionizing mental healthcare. AI technologies are focused on improving treatment, outcomes and reducing costs.
By delivering better engagement, we get teachers back to teaching, students back to learning and parents back to working. reThinkIt! provides teachers and parents robust dashboards to track and follow what's important for each child.
More ways to be productive. Always at your fingertips.
Using digital automation increases efficiencies by transferring administrative tasks to machines. That allows counselors, principals and therapists more time to spend with the kids who need them. reThinkIt! provides dynamically generated self-assessments that help kids put their side of the story together while Minty provides on-going support through personalized engagement and notifications.
reThinkIt! disrupts traditional approaches that are now too slow, too costly and frankly, too last century, to effectively manage kids' increased mental healthcare needs. Mobile devices make this critical information more on-demand accessible today.
Our disruptive approach to mental healthcare for kids means – putting it in their hands. Empowering them to self-help – when and where possible.
Overwhelmingly, when given the opportunity to take ownership, kids do.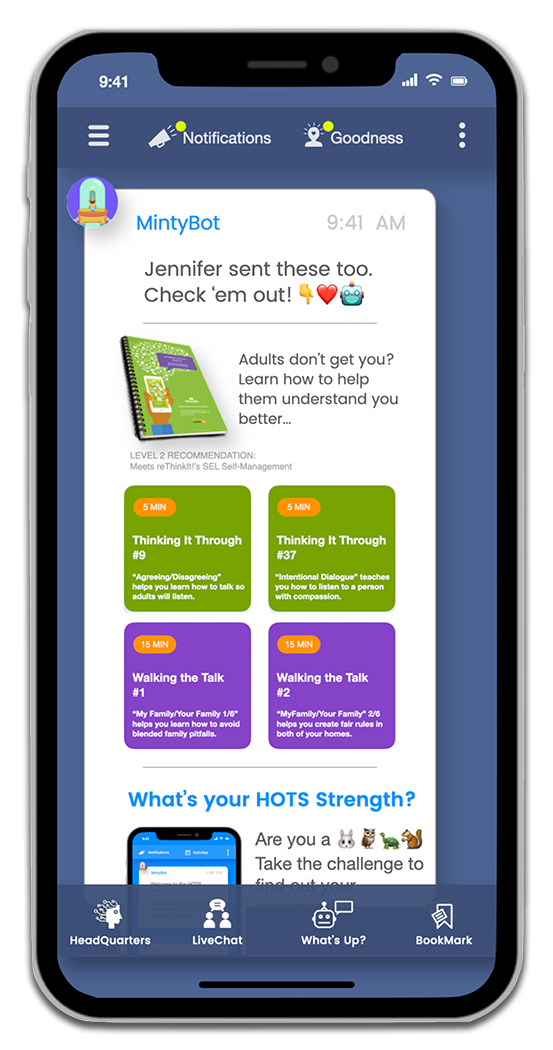 Teachers spend less time on classroom management and more time on academic teaching
Teachers can address what's really going on with a student now that they have 6x more information about what's bothering them. Parent conferences provide a 100% auditable information trail and are more informative now that teachers have first-hand information.
Student Activity Sheets provide specific social emotional learning (SEL) skills building opportunities using the same ML predictive analytics data used throughout the app. Instructional outlines and presentation opportunities are provided to allow students to practice and experience the success of meeting and exceeding expectations.
Teacher Lesson Plans provide very flexible opportunities for SEL skills building infused with a leveled taxonomy, subject-specific curriculum – resulting in enthusiastic interactions with students and the development of positive classroom learning environments.
Students make wiser decisions and accept more responsibility
Students love technology and reThinkIt! meets them in their technology comfort zone and helps them make wiser decisions. Students experience more empathy and improved relationships with the adults in their life who now have the "real story".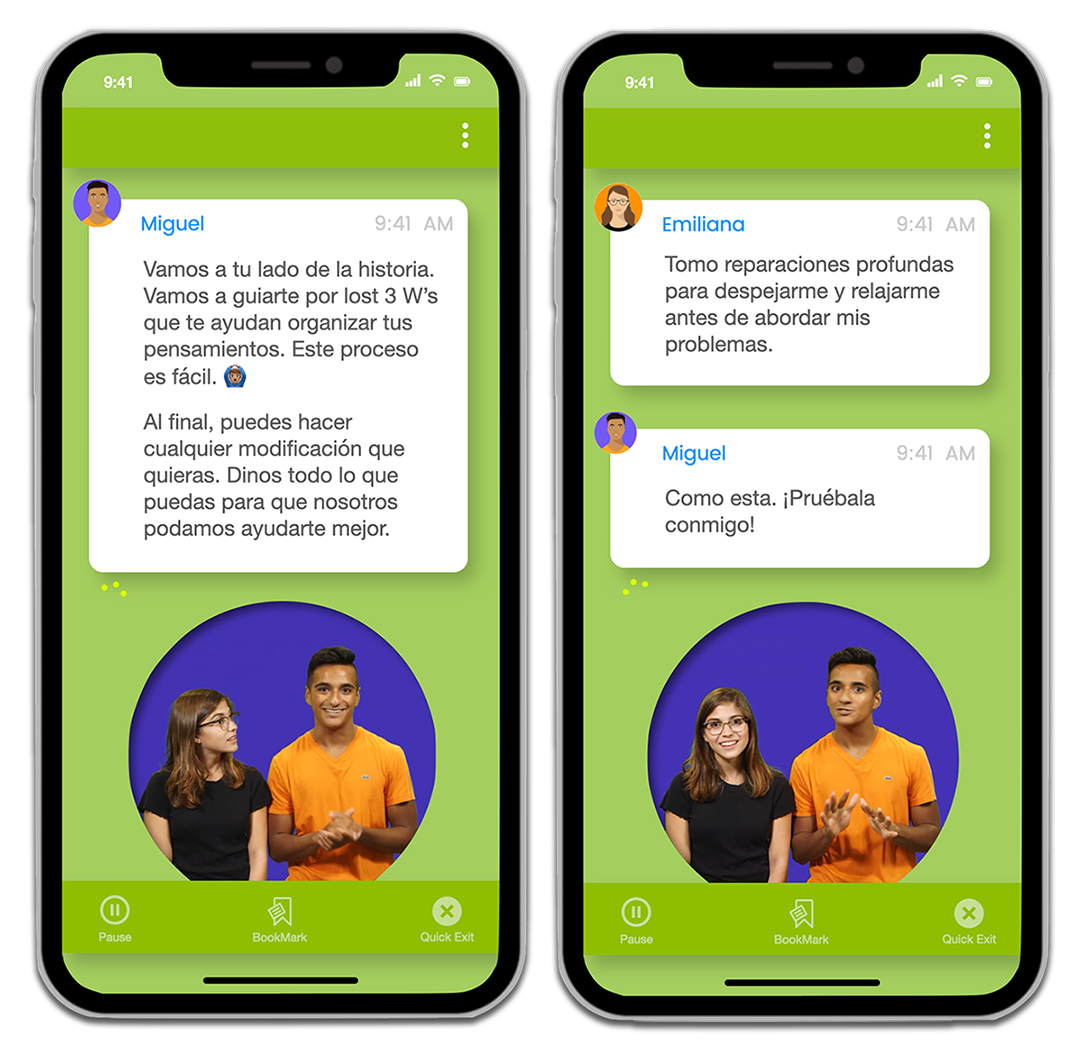 Increased thinking. Greater understanding.
reThinkIt! is a real-time early detection tool that engages students to recognize they can actively participate in seeing and self-solving their problems, providing them a sense of comfort and successful perseverance.
reThinkIt! research has proven a statistically significant reduction in a student's emotional distress, reduced out-of-class time in In-School Suspension and Alternative School settings, 5.4 emotions shared and 6x more information than shared face-to-face. And, it also helps improve GPA's and increases average daily attendance while facilitating a 100% auditable trail making parent conferences less confrontational.
See how easy it is for children to have their own Personal Intelligent Mental Healthcare Chatbot Companion always-at-the-ready.