Meet ThinkingAppTM and reThinkIt!TM: Proven to help kids make wiser decisions, preserve teachers time and save schools money
Off-loading time consuming tasks that bog down an educator's day, ThinkingApp and reThinkIt! are proven smart enough to help teachers be more productive and students make wiser decisions on the fly.
Improved attendance
Proven to be a powerful tool to preserve money from improved student attendance and teacher retention.*
Teachers more effective
De-escalates classroom drama by helping teachers manage their classrooms better.*
5x more information
Students share 5 times more information with reThinkIt! than shared face-to-face with adults.*
Replace a student's time spent waiting to see an authority figure into an experience that is self reflective, positive and productive
For PreK to 2nd grade, ThinkingApp is "Time-Out Reimagined"
Solving the complex discipline issues associated with, well, being a kindergartener, ThinkingApp allows a teacher to quickly assign a disruptive student one or many interactive ebooks that fill the 'time out' with behavior-specific content – smoothly and efficiently – reducing valuable time away from the rest of the class. In both English and Spanish, ThinkingApp uses social emotional learning (SEL.)

For 3rd to 12th graders, reThinkIt! is "Advice Reimagined"
reThinkIt! supports solving complex issues for adolescents' social emotional (SEL) well-being. Using evidence-based, personalized and predictive principles, reThinkIt!, in both English and Spanish, supplements school counseling and behavior management through a virtual mentor who guides the student through SEL self-help interactive modules. When 1-on-1 coaching is needed, a certified mentor communicates via text conversations that any student can navigate on their own during school hours.
"reThinkIt! has been a great tool to help our teachers manage their classrooms, providing a secure way to de-escalate potential "classroom drama."
Les Simpson, Director of Technology, Cedars International Next Generation High School
MEETING FEDERAL AND STATE MANDATES
Today, the Every Student Succeeds Act (ESSA) mandates every US school to show at least one non-academic social and emotional learning (SEL) outcome per student. reThinkIt! and ThinkingApp are built to provide districts with the actionable metrics to both comply with the ESSA mandate and address students' needs sooner.
"It tells you ideas to do. It like gives you a little light bulb in your head." 8th grader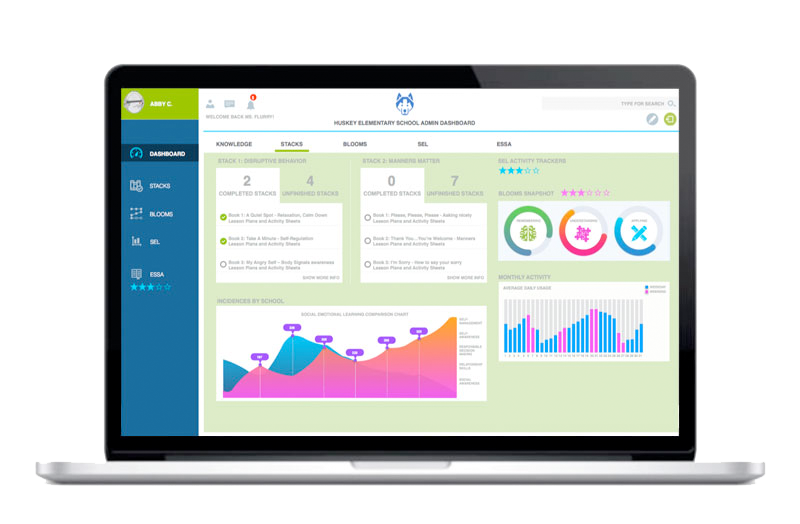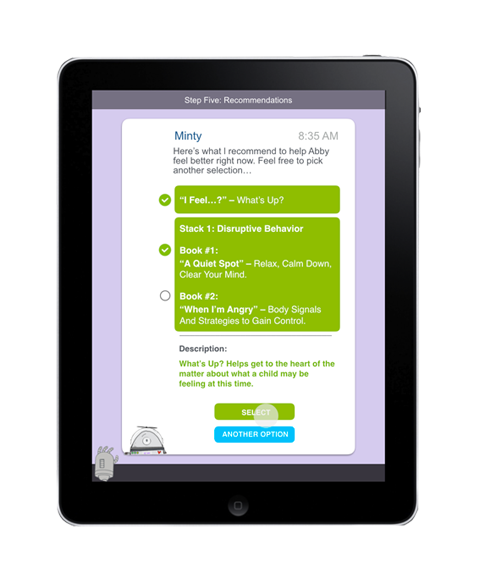 OPTIMIZES TEACHERS VALUABLE TIME
ThinkingApp spares suspensions of your PreK to second grade students. It easily allows teachers to quickly assign any student needing a short time out an incident-specific ebook tailored to that child's needs. This avoids the typical mass classroom disruption generally associated when a youngster acts out – saving teachers time and allowing smoother class continuity.
"Minty loves me." Kindergartner
TRUSTED AND PROVEN INTERVENTION
A proactive safety net between students and educators providing a unique approach to effectively supplement school counseling and classroom behavior management. reThinkIt! is a reliable, trusted intermediary delivering hard-to-get insight into what's going on with a student – whether at school, at home or on their own.
"I like how the mentors came on my screen and made me think about what was going on." 5th grader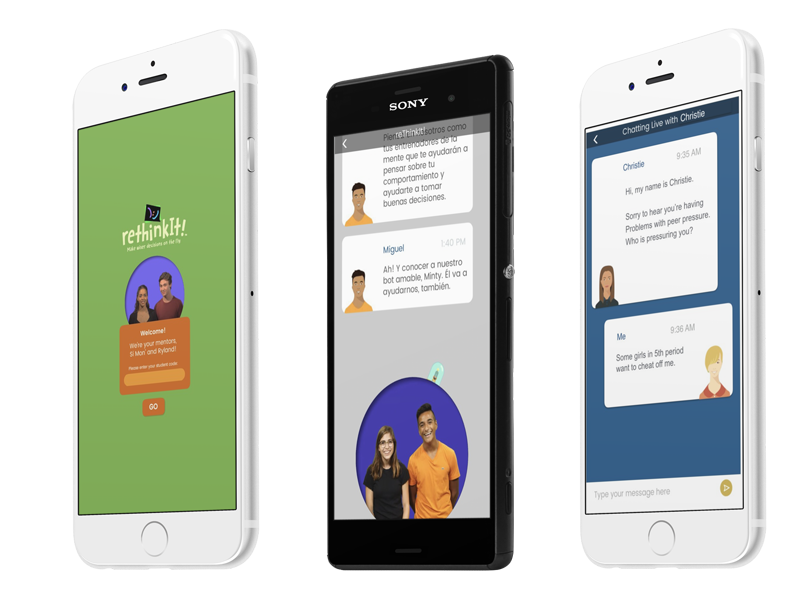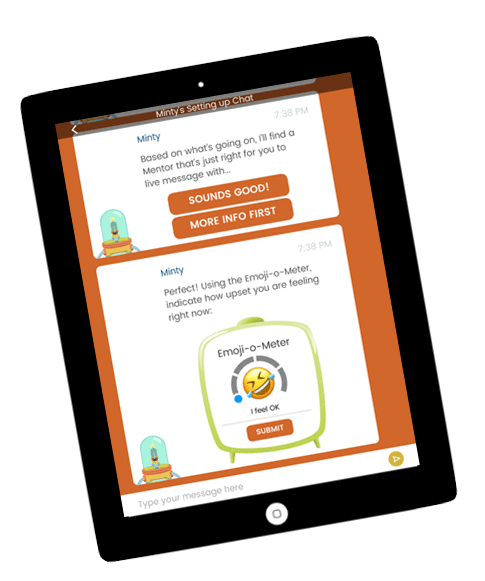 REDUCING EMOTIONAL DISTRESS
Learning is most effective when a child's emotional distress is calm. ThinkingApp's friendly chat bot, Minty, has a calming effect on youngsters. reThinkIt!'s certified virtual mentors work in conjunction with our library of interactive SEL-based content, dynamically tailoring advice and resources to each child's specific needs. reThinkIt! is proven to show statistically significant reduction in students' emotional distress. reThinkIt! virtual mentors work in conjunction with our library of interactive content, dynamically tailoring advice and resources to each child's specific needs.
"It's really cool. I like how you can text to a real person." 6th grader
Ready to see where reThinkIt! and ThinkingApp will help improve your attendance and increase your school revenues?
GET A DEMO
"This is nice. You not only help fix the problem at hand, you guide students through how to address and be prepared for future issues to avoid the same things from happening again."
Kevin Kerr, SEL Specialist, Texas
Proudly partnering with Southwest Angel Network, Communities in Schools and Rackspace.